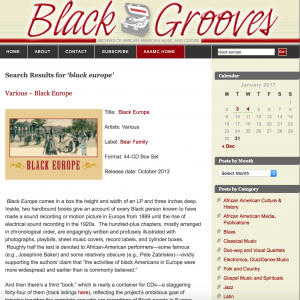 Black Europe comes in a box the height and width of an LP and three inches deep. Inside, two hardbound books give an account of every Black person known to have made a sound recording or motion picture in Europe from 1889 until the rise of electrical sound recording in the 1920s. The hundred-plus chapters, mostly arranged in chronological order, are engagingly written and profusely illustrated with photographs, playbills, sheet music covers, record labels, and cylinder boxes. Roughly half the text is devoted to African-American performers—some famous (e.g., Josephine Baker) and some relatively obscure (e.g., Pete Zabriskie)—vividly supporting the authors' claim that "the activities of black Americans in Europe were more widespread and earlier than is commonly believed."
And then there's a third "book," which is really a container for CDs—a staggering forty-four of them (track listings here), reflecting the project's ambitious goal of bringing together the complete acoustic-era recordings of Black people in Europe. The first twenty-three discs are devoted mostly to African-American performers and traditions, while the rest feature others in Europe of African descent, including ethnological documentation of speech and music, "Pygmy" records sold as exotic novelties, and Yoruba religious songs for the Nigerian market. Some of the collection's larger subgroupings are major reissue accomplishments in their own right—for instance, three CDs present the whole surviving recorded repertoire of Pete Hampton, a Black musician from Kentucky who "made more recordings than any white American in Europe in the 1900s and 1910s." Of course, many recordings that would have been within scope aren't known to survive, as with Bert Williams's rejected G&T tests, and a few others were deemed unplayable or were withheld by archival custodians from publication "without scientific-critical comment." Moreover, an earlier plan to include motion pictures on an accompanying DVD foundered on "exorbitant licensing fees." But such gaps in coverage only underscore how comprehensive this collection aspires to be.
Clocking in at just over fifty-seven hours, the audio is more like an encyclopedia to be consulted than an anthology to be devoured from start to finish, but all the restorations I've made it through so far are eminently listenable. What stands out for you in the set will depend on your specific interests—the project's promotional text cites "the earliest examples of stride piano and rhythm scat singing," for example, and I personally found Belle Davis's 1902 rendition of "Just Because He Made Dem Goo-Goo Eyes" a revelation, unlike anything recorded in the United States during the same period. The print run for Black Europe was limited to five hundred copies and prices quoted on Amazon.com currently range from $699.99 to $1224.12 (or €750.00 with free shipping worldwide via Bear Family), but the budget-minded might instead try Over There, a separate three-CD release from Bear Family that features some of the same material.
Reviewed by Patrick Feaster
more
http://blackgrooves.org/index.php?s=black+europe&searchbutton=Go%21